Health & Wellbeing at R/A – Performance Science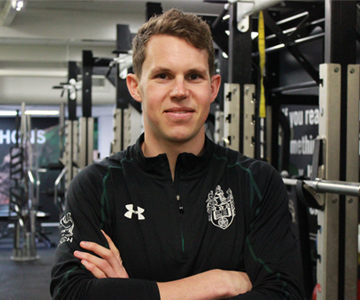 R/A Faculty Tim Jarrett has been leading the University of Leeds Strength and Conditioning department for the last 4 years, having previously worked for Sheffield Hallam University and in roles at 3 professional football clubs. 'My experience ranges from working with Olympic and World-level athletes to those preparing for regional level competitions around the UK. Having worked across a multitude of different sports and seeing how different athletes prepare, I now enjoy the challenge of applying best practise to a group of talented performing artists at Renaissance Arts.'
Two years ago, directors struck up a partnership with The Edge gym at Leeds University, introducing strength and conditioning coaching in to the course timetable. Students attend weekly sessions with Tim and colleague Ben Warman in small groups to work through a bespoke training program.
Last week, alongside their physical gym training sessions, we invited Tim Jarrett in to present a lecture to Renaissance Arts students on performance science. As 3rd year R/A student Sebastian Binns so elequantly put it …'when you become the athlete, you become the artist.' But training with Tim and Ben hasn't only been about physical strength, students are also taught about channelling mindfulness in regards to their training highs and lows. We asked first year student Charlotte Marsh what she'd taken away from Tim's lecture and she felt inspired by key statements such as 'a positive outlook on things encourages growth and improvement', further explaining that she now understands she should be using setbacks as an opportunity to learn.
It's rewarding for the Directors to see that during the short time investing in this area for the students, their mindset has become much more focussed on not only mastering their performance technique, but also their understanding of how althleticism is a key contributing factor to their future career as professional performers. Good training equals consistency!
'Through all the challenges young people face, we believe in maintaining this training practice so that they can remain focussed on their personal goals and ambitions and management of expectations. Even when having a bad day, they can still achieve so much. ' Martin Howland, RA Director of Ballet
#thriveonchallenge #technicallyexcellent #leedsgryphons #trainwiththebest #professionaltraining #mindfullness #becometheathlete #becometheartist #encouraginggrowth #positivity #focus #managingexpectations
Interested in applying to study on our professional Dance and Musical Theatre training programs? Click the button below.
http://renaissancearts.co.uk/wp-content/uploads/2022/06/RA_ident_all-black-2-300x89.png
0
0
Neil Rigg
http://renaissancearts.co.uk/wp-content/uploads/2022/06/RA_ident_all-black-2-300x89.png
Neil Rigg
2019-12-09 15:29:13
2019-12-09 15:29:15
Health & Wellbeing at R/A – Performance Science