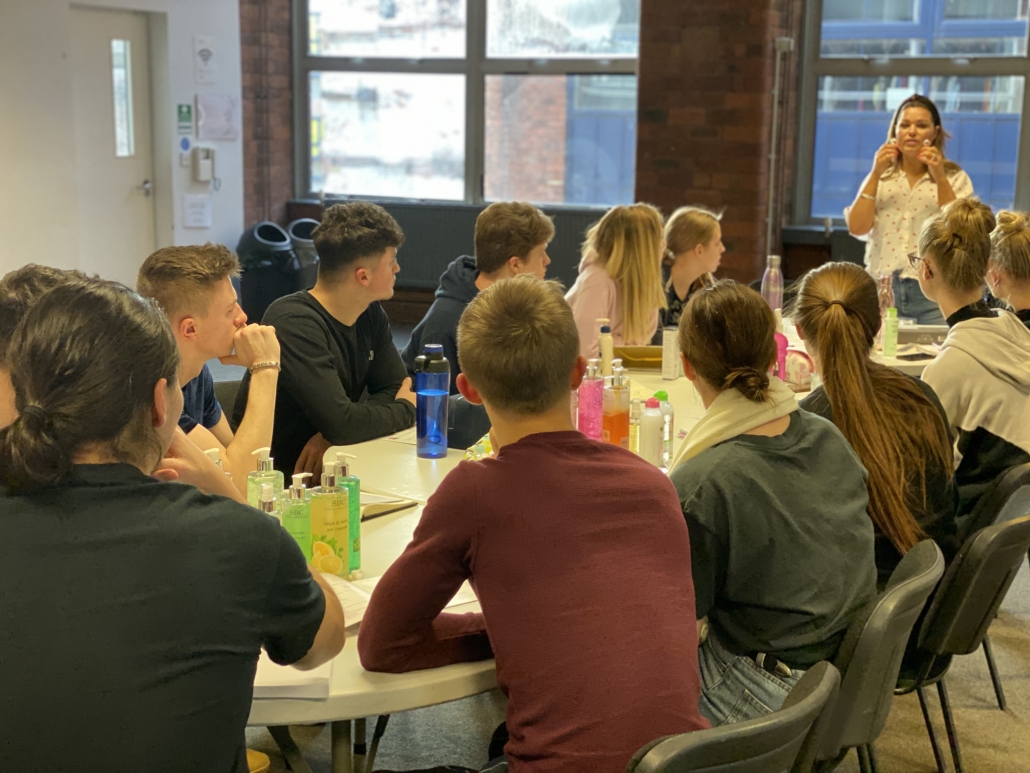 With over 20 years experience in the Beauty Industry, founder of Pure Opulence Beauty, Natasha Howland, found some time out of her busy diary to talk to our students about skincare. It was great for RA students to hear some myth busting truths and receive specialist advice to learn how to keep their skin protected, and in tip top shape, amidst a high energy, hectic schedule.
Here's small selection of the key things we learnt about skincare:
On an evening, wash skin twice, once to remove make-up and again to clean the skin
Only use specific eye creams or gels around the eye area. Using general moisturisers can cause puffiness.
An SPF isn't only to protect from sun burn, during winter skin is at risk of wind burn too!
When exfoliating, try and stick to once a week to prevent overstimulising oil glands
Thinnest – Thickest: use this guide to apply your products e.g. wash face, eye cream, serum, moisturiser, spf
Spot anything you could try or do differently from today?
We asked a couple of our students what they'd do differently as a result of Natasha's advice: Third year Musical Theatre student Connah Walsh didn't realise there was so much required to protect his skin; not only using an spf to protect against sunburn but also through the colder months to prevent windburn. Although Connah currently uses a daily moisturiser, Natasha reccomended Connah use products containing rose, to further benefit his skin type. And first year Olivia May Topping is eager to adopt a 'cleanse twice' routine, firstly removing make up and then washing the skin underneath. Natasha reccomended this as a part of the daily nightime skincare routine, ensuring make up is removed by 11pm, when the skin begins to actively repair itself.
There were so many useful tips we could go on for pages but instead, have a read through some of our student's questions for Natasha below, and see whether any of the advice could work for you too! You can book treatments or seek advice directly from Natasha by visiting her website www.pureopulencebeauty.com or via social media @pure_opulence_beauty @the_apothecary_skincare_clinic
Q: I have some marks on my skin and I'm not sure whether I can heal them?
A: If they're red, they're still in the process of healing, so something can be done to aid this process. Use a Vitamin C Moisturiser to help regenerate, The Body Shop do a good one.
Q: You reccomended getting a facial once every 6-8 weeks, but there are so many options out there. Which do you suggest?
A: Go with someone who can offer you a consultation first. They'll ask you what your skin concerns are and be able to pick the right products for your skin type.
Q: If you're using a Gel cleanser, how do you apply and remove it?
A: Gel will foam to break away dead skin cells and grime. Mix with a tiny bit of water to really foam it up and rub vigorously into the skin, then rinse with warm water (not too hot as this only dehydrates the skin) and don't forget to wash behind your ears! TIP – Cream cleansers are better for aging skin, and Oil cleansers amazing for really breaking down the dirt.
Q: What's exfoliator?
A: A gritty product to remove dead skin cells. Use once a week.
Q: How do I get rid of or prevent ingrowing hairs?
A: Exfoliate and moisturise regularly.
Q: How do I reduce redness in my skin?
A: Use Lavendar or Rose Oil or products containing these ingredients.
If you're interested in hearing more about our excellent industry lead training, or want to #jointherenaissance, come along to our Open Day on Sunday 12th january 2020. Register here http://renaissancearts.co.uk/open-day-2/
NB: None of the skincare brands used or reccomended during this lecture were affiliated.
http://renaissancearts.co.uk/wp-content/uploads/2022/06/RA_ident_all-black-2-300x89.png
0
0
Neil Rigg
http://renaissancearts.co.uk/wp-content/uploads/2022/06/RA_ident_all-black-2-300x89.png
Neil Rigg
2019-12-16 11:58:52
2019-12-16 11:58:54
Health & Wellbeing at R/A – Skincare with Pure Opulence Beauty